The Gatehouse now has a library!
There is now a small library available in The Gatehouse, filled with books that may be useful for adult survivors of childhood sexual abuse. Books can be borrowed from the library by Gatehouse members, participants, and volunteers.
Thank you to our Humber College School of Social and Community Services placement student Katherine Lillico who worked tirelessly to make this possible!
Check out our new reading list available on The Gatehouse website, listed under the resources menu tab. This reading list is based on the topics of the Adult Support Phase One – 15-week program and provides recommended books for adult survivors (18+). There are also sections that recommend books intended for parents to use with their children, and for those who are a supporter of a survivor of childhood sexual abuse.
Every book in the library was graciously donated by the author or publisher of the books or a volunteer at The Gatehouse.
Thank you to all of our sponsors that made this library possible:
Deb Maybury

Bren

é

Brown

Educate 2 Empower Publishers

New Harbinger Publications

Barbara and Charles Whitfield

Sonia Ricotti

Lucia Capacchione

Sheri Van Dijk

Eckhart Tolle

Erin Moulton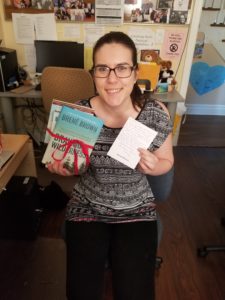 Katherine Lillico, HBSc, ADMH PGCert.
"My name is Katherine and I am a post-graduate student in addictions and mental health. I created the library project and reading list as a student project for Humber that I believed would benefit The Gatehouse. I wanted to create a project that would supplement the support that participants are receiving in The Gatehouse's peer-support groups. Each week, our phase 1 groups cover a new topic, and when it is over I wanted to provide participants with access to further resources for additional support. Maybe you found the week difficult and wanted to do some personal work on the topic, or maybe you loved the topic and just wanted to learn more. Whatever the reason, I believe books can be excellent tools in helping individuals learn and find support. I wanted the resources that we often recommend to be easily accessible to participants."