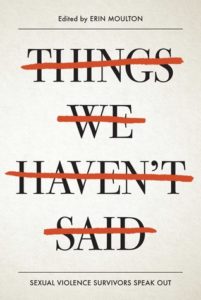 Title: Things We Haven't Said: Sexual Violence Survivors Speak Out.
Author: Erin Moulton
Year: 2018
Summary:
Things We Haven't Said is a powerful collection of poems, essays, letters, vignettes and interviews written by a diverse group of impressive adults who survived sexual violence as children and adolescents. Structured to incorporate creative writing to engage the reader and informative interviews to dig for context, this anthology is a valuable resource of hope, grit and honest conversation that will help teens tackle the topic of sexual violence, upend stigma and maintain hope for a better future.
Where to Find:
The Gatehouse Library
A special thank you to Erin Moulton for donating this book to The Gatehouse Library