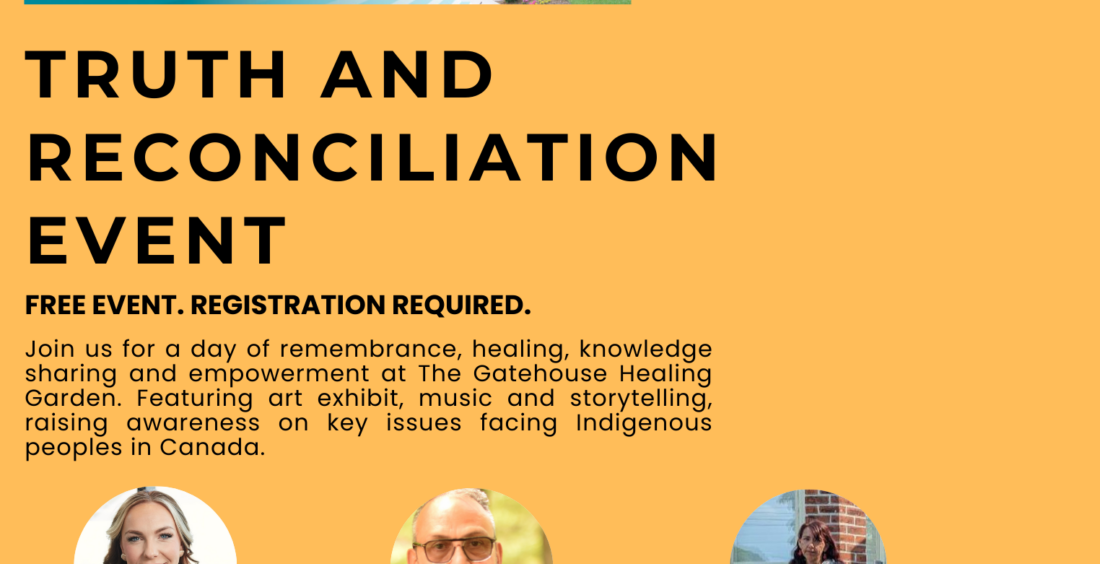 Truth and Reconciliation Event
September 29 @ 2:00 pm

-

4:00 pm

at
Truth and Reconciliation Event
You're invited! Join us for a Day of Remembrance, Healing, and Empowerment at The Gatehouse Healing Garden
We are delighted to extend our heartfelt invitation to a special event that is both transformative and impactful. You are cordially invited to join us for remembrance, healing, knowledge sharing, and empowerment at The Gatehouse Healing Garden on Friday, September 29th, 2023, from 2:00 pm to 4:00 pm EST in person.
Event Details:
Date: Friday, September 29th, 2023
Time: 2:00 pm to 4:00 pm
Location: The Gatehouse Healing Garden, 3101 Lake Shore Blvd W., Toronto, ON, M8V 3W8
Event Type: In person
Cost: Free
Registration required. Please Register to let us know you will be there using this link https://docs.google.com/forms/d/e/1FAIpQLSe4BOfODks95kJgZQzKap8zdpXyV3_QaYxHCPrmWxM-_K4MLw/viewform?usp=sf_link
This truth and reconciliation event aims to shed light on critical issues facing Indigenous peoples in Canada through an impactful art exhibit, captivating music, and engaging storytelling. As we gather in this serene oasis, we will honor and remember the rich cultural heritage of Indigenous communities while addressing the challenges they face today.
Your presence at this event will contribute to raising awareness and supporting initiatives that strive for a more inclusive society. We hope to see you there!
We are privileged to have distinguished speakers at the event:
Kaitlyn Chapman – Kaitlyn is from the Tyendinaga Mohawk Territory now living in Toronto. She is the Indigenous Community Engagement Coordinator at Humber College and actively works with her team to partner with Indigenous communities to develop outreach initiatives that are meaningful, authentic, and responsive to the strengths and diverse needs of Indigenous learners, families, and communities.
Leonard Benoit – Leonard, is Qalipu Mi'kmaq from Burgeo, Newfoundland and Labrador, is one of 10 Indigenous patient navigators working across the province. He supports patients at Sunnybrook's Odette Cancer Centre and other hospitals in Toronto.
Kristi White – Kristi is a member of the Oneida Nation of the Thames. She is an author and her focus is on Indigenous language and culture revitalization, and an awakening in boy's literacy. Kristi White a proud Haudnosaunee woman. As a mother and grandmother, Kristi has spent many years guiding the establishment and implementation of programs for families and children based around healthy living, healthy relationships, literacy and cultural appropriate content and has worked alongside and consulted with numerous agency's across Canada. Kristi is a children's Author who has a 5 book series, The Adventures of Jay and Gizmo, that is focused on indigenous children especially boys and literacy. Kristi and her family are very culturally and socially active in their communities and participate in many events and ceremonies.
The Healing Garden will serve as a symbolic space for us to learn, share experiences, and collectively move towards healing and understanding. It provides an opportunity to engage with diverse perspectives, fostering empathy and compassion.
Let's come together to celebrate and support Indigenous communities. Your participation will make a significant difference. We are looking forward to welcoming you to The Gatehouse Healing Garden on September 29th!