Event Navigation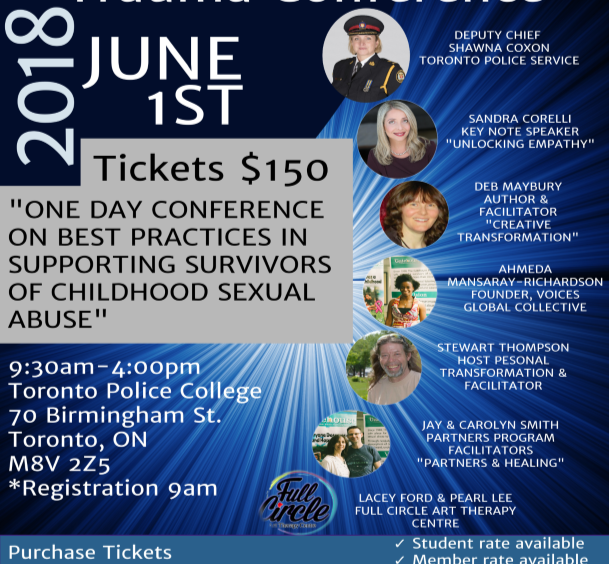 8th Annual Transforming Trauma into Triumph Conference – Fri. June 1, 2018
June 1, 2018 @ 8:30 am

-

4:00 pm

at Toronto Police College

$150
The Gatehouse 8th Annual Transforming Trauma into Triumph Conference @ Toronto Police College
Friday, June 1st, 2018
9:30 AM-4:00 PM

Registration/Check-in: 9:00am

Tickets: https://www.canadahelps.org/…/transforming-trauma-conferen…/

A one conference highlighting new and emerging approaches that support adult victims of childhood sexual abuse.

Confirmed speakers:

Deputy Chief Shawna Coxon, Toronto Police Service
Sandra Corelli Key Note Speaker "Unlocking Empathy"
Ahmeda Mansaray-Richardson, Founder, Voices, Global Collective
Stewart Thompson, Host Personal Transformation Radio Show The Gatehouse blogtalkradio.com/personaltransformation
Deb Maybury, Martial Artist/Author/Film Maker/Gatehouse Facilitator
Carolyn & Jay Smith, Partners Program, The Gatehouse
Pat Adams, from Estrangement to Reconciliation
Andrea Robin Skinner, Family & Healing
Lacey Ford & Pearl Lee, Full Circle Art Therapy Centre
Spencer Henry Williams – Advocate, Writer, Filmmaker

Regular Ticket Cost: $150
    Student Rate: $50 (Must present valid student ID at check-in)
    GH Member Rate: $60 (Must present valid membership card at check-in)
***Sliding scale available contact stephanie@thegatehouse.org for more information***
Ticket sales link:
https://www.canadahelps.org/en/charities/the-gatehouse-child-abuse-investigation-support-site/events/transforming-trauma-conference/
or you can register via downloading a 2018 Conference Registration Form and faxing to 416-255-7221 or email completed form to stephanie@thegatehouse.org
This event was funded by the Victims Fund, a grants and contributions program administered by the Department of Justice Canada. Funds are available to provinces, territories and non-governmental organizations for programs and services that give victims and survivors of crime a more effective voice in the criminal justice system. For more information about the Victims Fund, please visit: http://www.justice.gc.ca/eng/cj-jp/victims-victimes/
For more information on Victims and Survivors of Crime Week, visit: www.victimsweek.gc.ca.